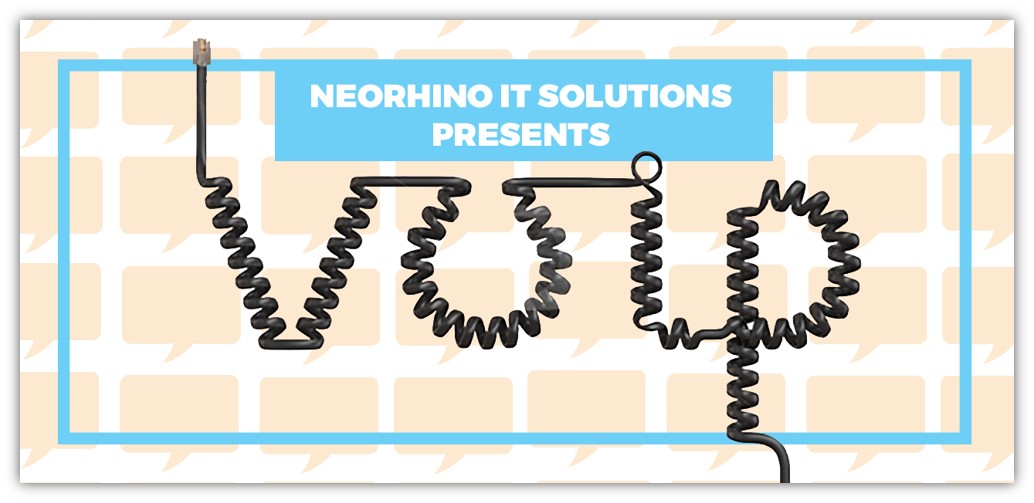 What is VoIP?
VoIP stands for Voice over Internet Protocol and is also referred to as Voice Over IP.
It's a method of using your high-speed internet connection for a phone service instead of the traditional analog copper lines of the PSTN, or Public Switched Telephone Network. Using VoIP instead of traditional telephony opens the possibilities of worldwide calling without the potential high long-distance and telephone line service fees.
A quick history lesson:
VoIP was founded in 1995 by a company in Israel called VocalTec. They created a product called InternetPhone: an application that offered computer-to-computer voice calls using a microphone and speakers. This ambitious application only worked if both the caller and the receiver had the same software setup. VocalTec went on to become a part of familiar company magicJack in 2010 and since then several other companies
You may be familiar with VoIP and not even be aware of it. Have you ever used Facebook Messenger's voice chat mode? Or maybe using your home Wi-Fi to make calls on your cellphone? Those are perfect examples of VoIP because you are using an internet connection, whether it is Fiber, DSL, or Cellular, to make phone calls.
How does VoIP work?
To understand how VoIP works, it's helpful to compare it to how a traditional phone call operates. When you make a call using an analog line, it sets up a dedicated connection between the two parties for the duration of the call. In a VoIP phone call, the voice information is transmitted over the internet in data packets. The data packets consist of voice samples that are collected together into chunks for transmission over the Internet to its destination. The process continues in both directions until the call ends.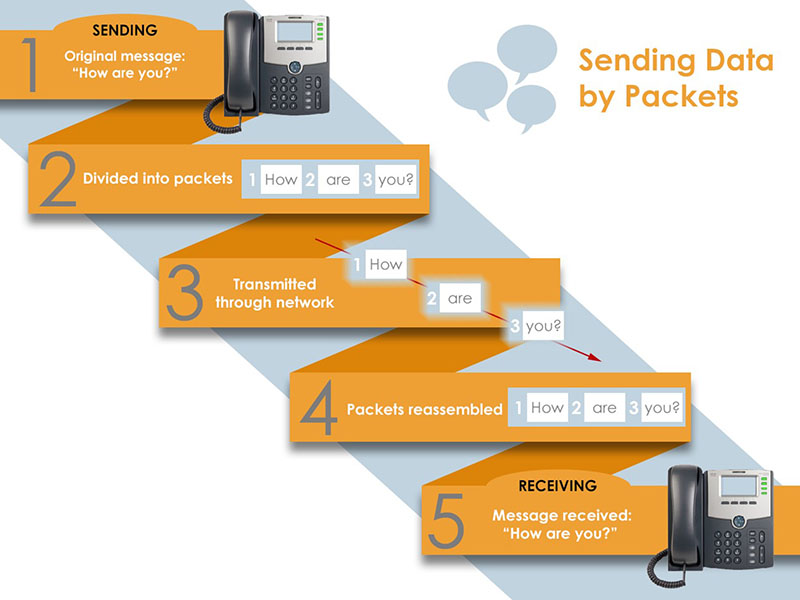 The data packets can travel through any of the available routes. If one of the lines supporting the network is down, the packet can switch to another working route to keep the call going. In an analog network, if a line is down, the call can't go through, but with VoIP's data packet-switched network, the chances of the call dropping are significantly decreased.
What equipment do you need for VoIP?
Aside from VoIP handsets like the ones Rhynotel offers, the main three components of VoIP consist of:
PBX – the core server of a VoIP phone system
SIP Trunks – assists the PBX in voice connection sessions and expands lines on call volume
DIDs – phone numbers that route calls from the PBX to the end users
A PBX, or a Private Branch Exchange, is a telephone server that switches calls between users internally and externally over an internet connection. Remember how in the olden days of telephony there would be a person maintaining a switchboard; connecting incoming callers to the right person? A PBX works in that fashion and may eliminate the need for a physical operator or attendant at your office. They also house several of the features you use every day in your phone system such as call transfers, voicemail to email, conferencing, auto-attendant, Do Not Disturb (DND), Follow Me and hold music. For more about VoIP Features, visit our VoIP Glossary.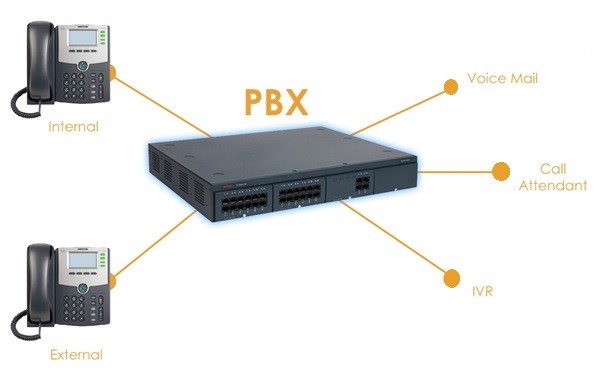 There are two different types of PBX units: Hosted PBX and On-Premise PBX units.
A Hosted PBX is an off-site PBX server that your service provider is responsible for maintaining and hosting your VoIP service. Many hosted VoIP solutions offer features through bundle packages, but you may not be able to select only the functions you want.
An On-Premise PBX server resides at your location, keeping the routing maintained in-house and in your control. On-Premise PBX units might have a higher upfront cost but can give you greater control of your VoIP system's functionality, as well as save you on monthly maintenance costs. We use On-Premise PBX units at Rhynotel, which brings you stellar performance and ownership of your investment. You are in control.
For more about the differences between Hosted VoIP and On-Premise VoIP, visit our dedicated VoIP Environment page here.
How do I connect through VoIP?
There are three main types of connectivity options for VoIP:
Analog Telephone Adapter (ATA) – A device used to physically connect an existing analog telephone to a VoIP network. ATAs usually have multiple phone jacks and an Ethernet network connection, though some perform analog-to-digital conversion and connect directly to a PBX.
Internet Protocol Phones (IP Phones) – Phones designed specifically for use in a VoIP system. Like our Rhynotel handsets, IP phones accept the digital signal directly and have a variety of features at easy access that standard analog phones may lack such as Follow Me, Call Parking and Do Not Disturb, at the push of a button. IP phones are also plug-and-play in that they can be moved from one location to another on your network easily while keeping the same number.
Softphones - A softphone is a software program that enables you to make VoIP calls using your computer in lieu of your office handset. If you have an internet-connected laptop or mobile device, a softphone is accessible wherever you have the device, giving you the ability to make and receive calls from your office phone number without giving your private or mobile number.
Is it true that analog copper lines are being discontinued?
The FCC is already taking the steps to expedite the analog network sunset. This has a target date of the year 2020 with the goal of E911 working better with VoIP calling. They also have a national broadband plan in alignment with the analog disconnection to assure that broadband/mobile capability is available everywhere that the Public Switched Telephone Network (PSTN) is today.
Mind the upload speed! It's a very important factor of how well calls are executed through the VoIP system. A good rule of thumb is to have enough bandwidth for roughly one-third of your employees.
Other important factors to consider:
A VoIP system's performance is dependent on the bandwidth of your internet connection. VoIP packet loss can occur when a large amount of traffic on the network becomes congested, potentially causing jitter or other call quality issues.
Having a UPS battery backup in case of a power outage is recommended. Since it uses your internet connection, if you have a VoIP system and you lose power your phone system may be inoperable.
When implementing a VoIP system instead of analog lines, be sure to provide your accurate physical address to your VoIP service provider to ensure that 911 emergency services can quickly be dispatched to your location. Do not forget to promptly update the information in the event of a change.
VoIP can transmit faxes. However, the protocol is not reliable yet. If you have a fax machine, we recommend using an analog line or eFax. Hosted VoIP services can also support faxing but may charge an extra fee.
This is merely scratching the surface of what a VoIP system can do. One of the biggest reasons VoIP is attractive to businesses is how much money can be saved over traditional analog telephony, more so with the implementation of On-Premise VoIP over Hosted VoIP.
Give us a call at (888) 661-6068 for a FREE consultation. We can break down your costs, recommend the proper hardware, and get you the perfect VoIP plan for your business phone service in the Houston area.