There are two types of VoIP Environments: Hosted VoIP and On-Premise VoIP.
Hosted VoIP
A Hosted VoIP environment is where the VoIP service provider is responsible for housing the Private Branch Exchange Server (PBX) as well as handling the services of the phone system. The provider charges a monthly fee that can be inclusive of a minute package and potentially certain features. Charges can also be a connection cost plus a per minute calling rate. Many hosted VoIP solutions offer features through bundle packages, but you may not be able to select the functions you want.
Monthly fees for a Hosted VoIP service can be determined by the number of phone lines and potentially phones you subscribe to on a monthly agreement. It can be highly scalable, but the fees can add up depending on the features and functionality you choose.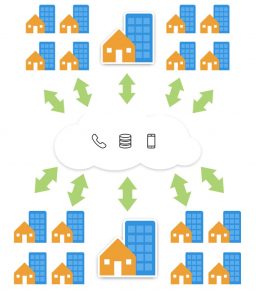 This technology allows businesses to have a sophisticated VoIP telephone system without the investment in PBX hardware. In fact, the entire PBX is operated and maintained in a data center cloud environment. With Hosted VoIP there is no mandatory maintenance or hardware to purchase and keep up with; the service provider takes care of the PBX. The potential downside of this is that although many modifications can be made to hosted services through web-based administration, overall system improvements and downtime are rolled out at the discretion of the provider.
On-Premise VoIP
Unlike Hosted VoIP, an On-Premise VoIP differs in how the physical PBX resides at a client's location. They are typically housed in areas such as a server room or telephone closet and the routing is done in-house within the local network. Calls come to the PBX through SIP trunks (Session Initiation Protocol connections) and are distributed to the phones.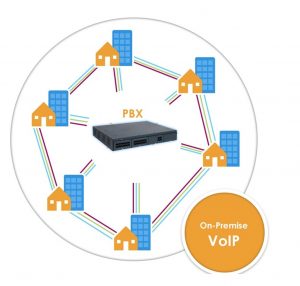 Since the entire system is maintained on your terms, having an On-Premise system gives you greater control over your investment. Since the hardware & software all remain on your company's premises, you have total control over updates and security & can quickly address outages and issues. This also often results in better Quality of Service (or QoS) which is the overall performance of a telephony or computer network. With hosted VoIP solutions, traffic runs on the provider's wide area network, which can compromise quality and reliability. Utilizing IP phones may be the best option for those looking for an On-Premise VoIP solution and the purchase of an On-Premise PBX can be used as a tax write-off!
A Hosted VoIP system can be less expensive at implementation since it requires no upfront capital investments in hardware, software or infrastructure building. However, the cost of the cloud-based solution continues to recur at the same rate, while much of the On-Premise cost is absorbed after the initial installation. The smaller initial cost and monthly payments typical of hosted solutions may sound more affordable, but when tracked over time become the costlier VoIP option.
We use On-Premise VoIP PBX units for our Rhynotel phone system, as we believe in giving you the choice and control of your business VoIP phone service. If you would like to know more about our Rhynotel On-Premise PBX hardware and cutting-edge phone handsets, visit our Products & Services page, or call us at (888) 661-6068 for a FREE Consultation.